Mashable reported yesterday that Sprout Social just closed a $10m series B round from New Enterprise Associates.  The company, which can "turn social connections into loyal customers," is a business application that helps users manage their social media marketing across the more prominent social sites (Twitter and Facebook) as well as some of the more locally-oriented sites, Foursquare and Gowalla.  Their SMB focus is evident throughout their product, pricing (packages are currently $9 and $49 monthly), and marketing communications although the application for mid- and large-market organizations is obvious.
I figured I would take a spin through their new application and share some general thoughts – but first, a bit of insight into who they are.
Who is Sprout Social?
Sprout Social is lead by CEO Justyn Howard, who earned his stripes in sales at New Horizons (1999-2005) and Learn.com (2006-2010).  He started Sprout Social in 2009, ostensibly bootstrapping, until he received a Series A around mid-2010 from Lightbank, the investment firm started by Groupon founders Eric Lelkofsky and Brad Keywell.  Howard's technical counterpart is Co-Founder and CTO Aaron Rankin, whose past experiences include Endeca Technologies and IBM.  Of note is also Designer & Partner, Gilbert Lara, whose impact on the company is immediately clear once you enter the application.   It's a lean team that seems to have some talented guys focused on R&D and UX.
How is Sprout Social packaged?
Sprout Social offers two packages: a professional package for $9/month that seems primarily aimed at helping "independent, small and online businesses" manage and grow their social networks, and a business package for $49/month that offers features oriented towards businesses with a "local audience."
First Impressions
My first impression of Sprout is that they follow the Web 2.0 online marketing playbook pretty carefully – they have a clean design aesthetic that pushes people to a free trial.  Once registered, they push users to connect with their social accounts.  Everything is done cleanly and precisely through the point of registration to the dashboard.  Kudos to Nate Turner, their online marketing director.
The Dashboard
My first impression of the dashboard was extremely positive.  They provide you with a good set of information however there is an extremely well construed visual balance of icons, panels, actions and data.  It's personalized out of the box and there are some intriguing data points (i.e. engagement and influence scores) that draw you in.  Scrolling down, you are presented with some real information drawn from your social accounts.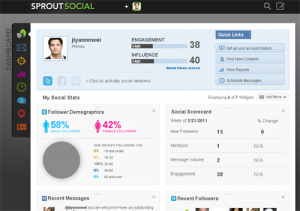 The Dashboard
Sprout Social includes the following modules:
Inbox – A stream of posts aggregated from your various social accounts.  The application offers various filtering options (types of communications as well as by social account) as well as the ability to tag different posts  (i.e. needs response).
Discovery – A tool set that allows you to run and save various queries (which they refer to as agents) that can be run on either Twitter or "The Web," which they define as "websites, blogs, and news sites."  The "Web" query seems to run across a variety of public engines including Bing News, Yahoo! News and Google News.  I like the branding of the module (Discovery) however I found this to be the most deficient of all the modules.  My assumption is that the purpose of the module is to help users identify new potential followers, friends, etc. however the UX doesn't do a great job facilitating the completion of this goal.  I think there is a great opportunity for Sprout to A. help users better understand which queries to run and B. figure out how to make the data that streams in more actionable.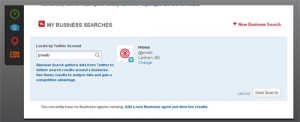 The Discovery Module
Reports – The reports module contains a variety of graphs that visually represent the user's behavior across Twitter and Facebook.  I wasn't immediately clear on how the data would be immediately helpful.  It does present the user behavior in a manner that is more intuitive, which brings a user one step closer to extrapolation however I have a feeling that most SMB's are going to need more than this.
Schedule – This module is something I really like because it alleviates the known hassle associated with posting across multiple platforms.  Additionally, the calendaring feature allows for scheduling of a post and users can even create recurring posts.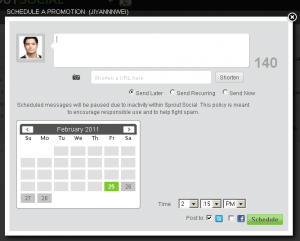 The submission tool
My Locations – This is another interesting module.  It allows you to synchronize your account with your Foursquare and Gowalla pages and receive mobile or e-mail alerts when customers check into your venue.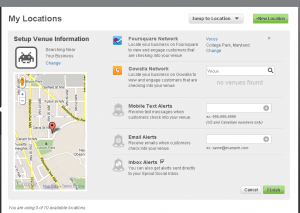 Contacts –  Finally, the contact module allows you to view your Twitter followers and add them into a separate list "to keep your most important contacts organized in one place."  I'm not entirely sure what the benefit of a separate Sprout Social list is unless they are planning to broaden the feature set in the module to include additional methods of interaction with users, which is somehow facilitated through the Social Address Book.
Concluding Thoughts
Based off a pretty brief interaction with the application, my general thoughts are that it is incredibly well designed and the overall modular framework seems to be the correct one.  The fundamental question is whether or not SMBs are going to find utility in the application.  The UI alone seems to be worth the relatively low cost of the $9/month package and the local features are a nice incentive to upgrade.  I'm looking forward to seeing how they develop the various modules – particularly the "discovery module" – to make them more useful to SMBs but I would say in general, they are off to a great start.
Comments
comments
Powered by Facebook Comments