Recently there has been a fair amount of online discussion about our editorial standards. I wanted to take this opportunity to address some of the points being made and respond to some of the questions being raised.
Let me start out by saying this: Our ultimate goal is to provide top-notch service and ensure our customer's news releases get distributed as far and widely as possible.
Now that I've put that out there, I'll go into a more in-depth explanation of how this happens and what it means for our editorial guidelines.
Currently, we are at a point where newswires like PRWeb are multi-faceted and aim to accomplish a number of things. Some of the major goals of press releases these days include:
Communicate to journalists and media outlets (AP, media databases);
Communicate to consumers (through places like Google and Yahoo!);
SEO / drive Web site traffic;
Provide content for journalists and other influencers;
Different newswire services place emphasis on accomplishing different goals but I don't want to dwell on the competitive differences. One of our main focuses at PRWeb is on direct-to-consumer communications and one of the ways this happens is by getting our customer's news releases to other high traffic news sites like Google and Yahoo! News.
Google has one set of recommendations for what they will or will not index. Yahoo! has another set of guidelines, and so on and so forth. Our editorial standards therefore have to strike a balance between providing our customers with the flexibility to use their creativity and talent in writing press releases; and making sure that they fit into the guidelines of what our partners recommend so we can deliver on our commitment to provide them with widespread distribution.
In addition, we also need to meet the needs and standards of bloggers, journalists and other subscribers who receive the release directly via RSS, e-mail, Associated Press feed, etc. We are constantly engaged with these groups to find out how they want their news and information delivered and then tweaking our editorial standards accordingly.
Now, as PR and Marketing people know – we are in a fast moving space. A new breed of influencers are becoming prominent online, the mainstream media is evolving, audience habits are shifting, etc. So everyone who works in this space – from PR people to newswires – have to evolve accordingly. So when we talk about our editorial guidelines, we are talking about an evolving set of standards that are designed to meet a constantly changing environment.
We have been listening to the recent conversations and understand the growing need on the part of PR professionals to use a more informal voice in their press releases. We have weighed these needs against the impact on news release distribution and in this situation, have decided to loosen the restrictions and provide writers with the ability to publish more informally toned content.
At the end of the day it's our commitment to place our customer's interests first and foremost and to help get their news releases distributed as broadly as possible. Our editorial standards are here to support this commitment.
To touch on some of the more specific points raised:
Lists or bullets
According to Google's Tips for Successful Crawling, "If the article body appears to consist of isolated sentences not grouped together into paragraphs, we won't be able to crawl it. Try formatting your articles into text paragraphs of a few sentences each." Several of our news releases that have been primarily composed of bullet lists have not gotten indexed in Google News. This is an ongoing challenge that we (and others) are working on. Ultimately we recommend not using bullet lists if you want to get into Google News but it will be up to you to decide.
Use of first or second person
Traditionally we have attempted to place limitations on the use of first or second person to ensure greater objectivity and increased media/journalist pick-up based on our research into how to most effectively reach the media. Clearly, blogging and other forms of online production are having an impact on the tone of news and we are in the process of evolving our standards accordingly.
Paying more to fix a release
We have never told customers they have to pay more to fix a press release that they have submitted.
Role of editors
Our editors are not sales representatives and do not work on commission. They are focused on reviewing news releases and providing customer service.
AP / Journalistic perspective on PRWeb
We have a partnership with the Associated Press to distribute press releases directly to leading media outlets within the AP network via the AP Datafeatures service. Any claims that we (or any other newswires) are "release spam" is false. In addition to the AP, we have had over thirty thousands journalists opt-in to receive our news releases and most journalists regularly use the major newswires as a top resource.
Volume of reads
It has been suggested that we falsely claim that an average press release is read by 100,000+ people. Many of our press release receive this many "impressions" (times the news release title appears in various places online we can track) but if you check your analytics, you will see that the actual reads (times someone clicks-through to access the full content of the release) of the news release is a fraction of this number.
Click thumbnail to view a screen shot of our analytics
Traffic of major newswire sites
It has been suggested that the traffic on our Web site and the Web sites for the other major newswire services has plummeted over the past two years. If you look at the picture over a broader time span (the graph is over the past five years) you will see that this "decline" is part of a much larger trend that has impacted more than just newswire sites. For instance, you can see from the following graph it has also impacted sites like Washingtonpost.com.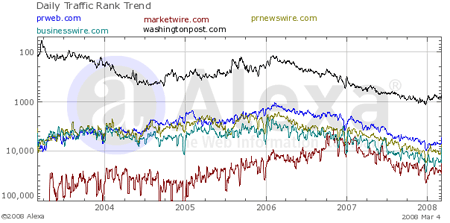 Shifts in search engine algorithms are accountable for a great deal of the shifting traffic patterns you see. We are constantly examining these trends and making enhancements to ensure that we continue to be a tier-1 Web site. Every month, we continue to get millions of visitors to our Web site, reading our customer's news releases and that hasn't changed and it won't.
At any rate, I hope this has provided a useful resource for some of you and has clarified some of the points that have been raised. We consider the blog comments/critiques on our editorial services to be a valuable source of input and we look forward to continuing the conversation with you guys. Additionally, if there are any issues with our editorial standards we are always happy to field your concerns via our help desk.
Comments
comments
Powered by Facebook Comments